Hours  /

9:30 - 16:30


Holiday /

thursday
Admission

adults:500yen
childres(under16):300yen

Address

13-7 higashiyama Kanazawa city,
pref Ishikawa
Phone  /

076-252-0887

FAX  /

076-252-0883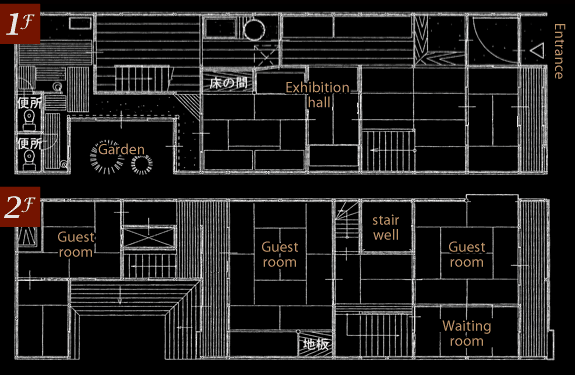 This graceful

ochaya

-styled building called "Nakaya" dates from 1820. It is a well-preserved and valuable example of a typical

ocha

ya of the Edo Period. Although the Japanese word "ocha" is commonly translated as "tea" in English , an

ochaya

was actually a formal meeting place for customers to be entertained by

geisha

as they drank sake , not tea. As a rule, elite

ochaya

such as Nakaya would have been patronized exclusively by upper-class merchants.

"Suikinkustu"

1F garden
1F Exhibition hall
Nakaya retains many beautiful features attesting to its days of bygone elegance. On the outside of the building, delicate lattice windows have been applied with bengara ( an expencive Indian-red lacquer). In face, nearly all of Nakaya's wood surfaces have been lacquered. On the ground floor,
geisha's
hair ornaments, old tableware, and traditional handcrafted items are displayed. The hair ornaments include
Kanzashi
(hairpins),
kushi
(combs), and
kogai
(ornamental bodkin), and the tableware and handcrafted goos include
Kaga
lacquer-ware,
Kutani
ceramics, and
Ohi
ceramics. Kaga lacquer-ware, in particular, is greatly prized because of the high degree of technical sophistication requied to produce it.
2F Guest-room
On the upper floor, zashiki drawing rooms can be found ; some of which contain lustrous red walls and others crystal-clear blue walls. In ochaya such as Nakaya, zashiki were always positioned on upper floors where guests could relax while enoying the graceful dancing and accomplished musical performances of geisha.
Please enjoy the remarkable exhibitions and beautiful rooms of this nearly 200-yaer-old ochaya, which harmonizes medieval and exquisite style.